Jobs
20-Sep-2017 to 19-Nov-2017 (EST)

Service

Sarasota, FL, USA

Competitive Flat Rate!

Other

Full Time

Sunset Cadillac of Sarasota
Company-paid Factory Training, Paid Time Off, Medical, Dental, Vision, Life and Disability Insurance, 401k, Employee Discounts, Paid Uniforms, and more!
---
GM Certified Automotive Service Technicians - this is your chance!
Brand-new, air-conditioned, state-of-the-art facility in beautiful Sarasota, Florida!
Under New Management since 2016!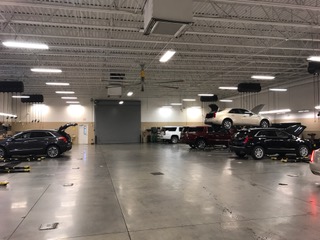 Earn top pay and only work one Saturday a month! Closed every Sunday.
We need one more Experienced GM Automotive Service Technician to join our elite team at Sunset Cadillac of Sarasota. Ideal candidate will be experienced in general service and repair. Must be able to handle engine diagnostics and repairs. ASE and/or GM Certifications are strongly preferred, but not required.
Automotive Service Technician Duties:
Accurately and completely diagnosing any vehicle maintenance, mechanical, or drivability problems
Performing work as outlined on repair order with efficiency and accuracy, in accordance with GM dealership and factory standards
Communicating clearly with the service team including parts associates and service advisors
Keeping your shop area neat and clean, and ensuring that customer vehicles are kept clean
Documenting all work performed
Automotive Service Technician Requirements:
As a GM Automotive Service Technician for Sunset Automotive Group, you must be dependable and ethical with a good safety record and a high degree of attention to detail. It is also important that you have excellent verbal and written communication skills as well as a firm commitment to customer satisfaction.
Specific qualifications for the Automotive Service Technician position include:
High school diploma or GED; Technical institute/training a plus
Automotive service experience required; 3 years brand-specific experience preferred
Good diagnostic skills
Flexibility for all types of work
Own tools -

toolboxes provided

Valid driver's license and clean record
Verifiable work history
Ability to engage in heavy lifting
Basic computer proficiency
Willingness to continue your education
ASE and/or GM certifications strongly preferred
Sunset Automotive Group Benefits
As an Automotive Service Technician with Sunset Automotive Group, you will be part of an established and stable organization that continues to grow. We have been in business since 1979 and enjoy a reputation of honesty and integrity throughout the community. Your own professional growth is an important part of our continued success, and regardless of your level of expertise we want to help you to become even better at what you do. Your hard work and professional dedication will be rewarded with competitive compensation as well as benefits. Here's some of what we offer:
• Medical Insurance
• Dental Insurance
• Vision Insurance
• 401(k) Retirement Plan
• Short-Term and Long-Term Disability Coverage
• Life Insurance
• Paid Uniforms
• Paid Time Off
• Company-paid Factory Training
• Employee Discounts
• Pay Plan based on experience
• No State Taxes!
We welcome applications and resumes from any experienced professional who wants to relocate to southwest Florida. We will only consider the highest caliber individuals for relocation assistance.
If you are looking for a place to work where you will have opportunities for growth and be appreciated, this might be the place for you! Enjoy your job and the people you work with at Sunset Automotive Group.